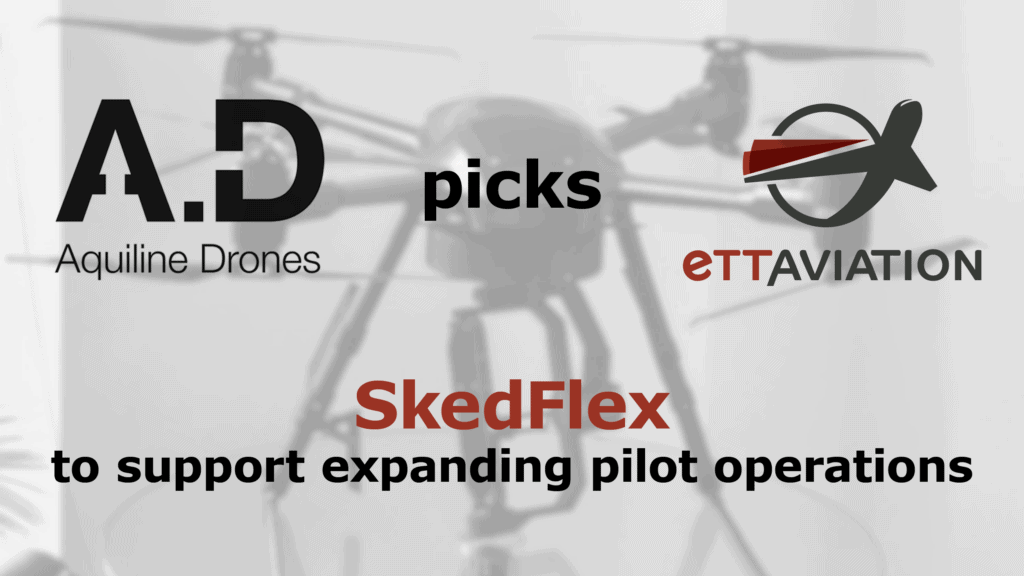 BOISE, ID and HARTFORD, CT – January 19, 2021 – Aquiline Drones has signed a multi-year agreement with eTT Aviation to use the SkedFlex product to support Aquiline's network of thousands of pilots nationwide.
Aquiline Drones operates a small airline making it one of only a few drone companies in the US operating under a 14-CFR Part 135 Air Carrier Certificate. Because of this, they are implementing the same systems in use in a traditional airline for added safety and security of their drone operation. SkedFlex is widely used by North American-based air carriers to provide the tools to support safe and efficient flight operations.
"We pride ourselves as exemplars, advocating safety first, followed by standardization under strict auspices of The Federal Aviation Administration (FAA)," says Tom Keck Aquiline Drones/AD Airlines, Director of Operations. "Being an airline, and implementing proven tools like SkedFlex, provides AD added leverage in achieving crucial authorization to perform complex and highly uncommon drone operations."
"The opportunity to work with Aquiline and support their drone operations with SkedFlex is an exciting opportunity for us," according to eTT Aviation President Tom LaJoie. "Our focus is to provide operators with the best software automation to allow them to more easily, efficiently, and safely do their jobs – manned or unmanned."
"The passion of the eTT team to adapt their SkedFlex product to the UAV market dovetails nicely with the Aquiline Drones spirit of approaching the use of drones as aircraft operating in an airline environment. Their 'can-do' attitude and flexibility is what separates them from the rest", adds Keck.
Both companies share the values of agility, reliability, innovation, and safety. They look forward to building on the partnership and the opportunity to bring additional capabilities to the Aquiline Drones operation as it grows.
About Aquiline Drones
Aquiline Drones is a progressive American drone company founded by highly experienced aviators, systems engineers, and IT gurus. With a customer-centric model, US-based manufacturing and supply chain, and world-class MRO services, the company offers innovative ways for using drones in commercial activities.
Supported by a dedicated UAV cloud, AD Cloud and real-time OS, autonomous drone operations with real-time control and dynamic in-field decision making capabilities, Aquiline Drones full-spectrum of technology solutions provide a more expansive and deeper applicability across countless industries and environments by delivering real-time data insights. Aerospace-compliant processes for software, hardware manufacturing, and systems integration, along with best-in-class mission capabilities are being planned and designed as the company continues to forge relationships with Federal, State, and private organizations in an effort to develop and launch new drone system applications in a collaborative manner.
Visit www.AquilineDrones.com for more information.
About eTripTrader, Inc., dba eTT Aviation
eTripTrader, Inc. (dba eTT Aviation) is a developer of aviation resource management tools and US service-disabled veteran-owned small business (SDVOSB) headquartered in Boise, Idaho. eTT specializes in scalable aviation flight and crew management, flight planning and dispatch, maintenance, accounting, inventory, HR, and management information solutions that revolutionize the way airlines achieve scheduling flexibility, compliance, and control, all while steadfastly adhering to its core values of integrity, innovation, and first-class customer support.
Visit www.eTTAviation.com for more information.
#########
FOR MORE INFORMATION PLEASE CONTACT: