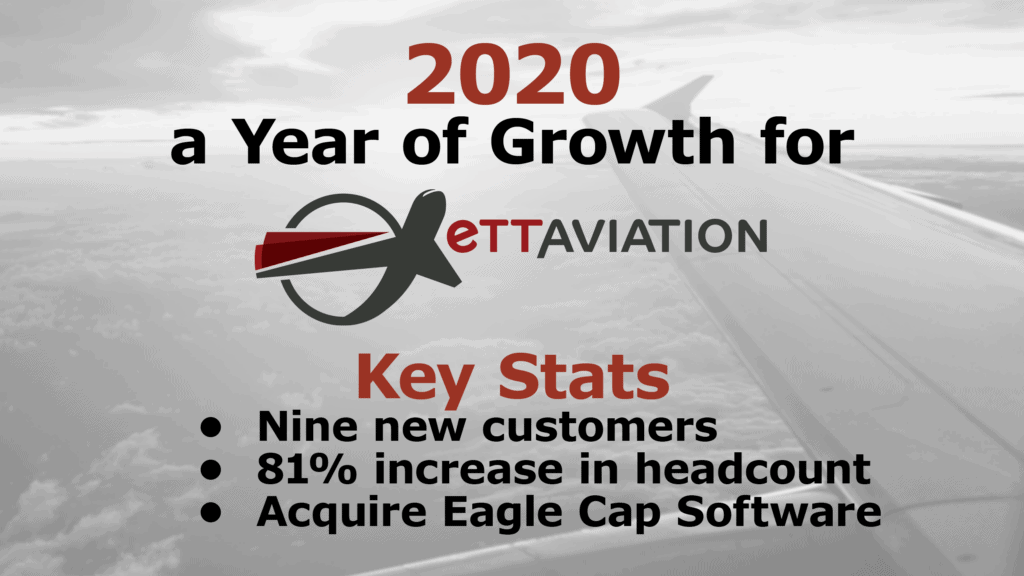 Customer and headcount growth plus acquisition of Eagle Cap caps off a successful year
BOISE, ID – January 14, 2021. eTT Aviation wrapped up a successful 2020 adding nine clients—including a drone operator, growing the team 81% to 47 people, and acquiring Eagle Cap Software.
eTT added nine aviation customers in 2020, including Aquiline Drones, CSA Air, Eastern Airlines, Kalitta Charters II, Mountain Air Cargo, R1 Airlines, and Ravn Alaska. The addition of Aquiline Drones demonstrates the flexibility of the SkedFlex product and ability of eTT to rapidly respond to ever-changing industry requirements. Aquiline Drones plans to use the application to support their rapidly expanding group of drone pilots.
"The passion of the eTT team to adapt their SkedFlex product to the UAV market dovetails nicely with the Aquiline Drones spirit of approaching the use of drones as aircraft operating in an airline environment. Their 'can-do' attitude and flexibility is what separates them from the rest", said Tom Keck Aquiline Drones/AD Airlines, Director of Operations.
Adding clients resulted in additional headcount to support the growth. The eTT team grew 81% last year from 26 to 47, adding staff in development and customer service.
"With COVID, I was worried we would have a tough year," said eTT Aviation President Tom LaJoie. "Quite the opposite, we had one of the best growth years in our 18-year history. Our customers see the efficiency SkedFlex brings to their operations, and even with the current environment, they see the operational value of their investment."
Other significant projects for the year included:
Continued integration of the Management Information System for Aviation (MISA) product suite into SkedFlex.
The finalization of the development of the new SkedFlex Quality and Training Management System (QTMS).
Launch of the SkedFlex Preferential Bidding System (PBS).
The year culminated with the acquisition of Eagle Cap Software, adding flight planning, aviation charting, electronic flight bag, and data delivery products to the company offerings which will be called SkedFlex Flight Planning.
"We go into 2021 with a strong base of customers, which we intend to continue to support with the best customer service in the industry," according to eTT Aviation President Tom LaJoie. "One of the highlights of the year will be adding SkedFlex Flight Planning for two of our existing customers."
Visit eTTAviation.com to see the wide array of aviation resource management tools now available.
About eTripTrader, Inc., dba eTT Aviation
eTripTrader, Inc. (dba eTT Aviation) is a developer of aviation resource management tools and US service-disabled veteran-owned small business (SDVOSB) headquartered in Boise, Idaho. eTT specializes in scalable aviation flight and crew management, flight planning and dispatch, maintenance, accounting, inventory, HR, and management information solutions that revolutionize the way airlines achieve scheduling flexibility, compliance, and control, all while steadfastly adhering to its core values of integrity, innovation, and first-class customer support.